David A. Thompson Distinguished Scholar of Applied Investments
Ph.D., Finance, University of Tennessee
MBA, International Business, Appalachian State University
B.S., Finance & Banking, Appalachian State University
B.S., Risk Management & Insurance, Appalachian State University
Selected Publications:
"A Game of Thrones - Dynamics of Internal CEO Succession and Outcome," (2022). European Financial Management.
"When CEOs Adapt: An Investigation of Manager Experience, Policy and Performance Following Recessions," (2021). Journal of Corporate Finance.
"Financial Consequences of Reputational Damage: Evidence from Government Economic Incentives," (2021). The Financial Review.
"Political Sensitivity in the U.S. Bond Market: Evidence from Government Contractors," (2020). Corporate Governance.
"Executive Compensation and Political Sensitivity: Evidence from Government Contractors," (2019). Journal of Corporate Finance.
"Determinants of Disclosures of Alternative Pay Measures and Their Role in Say on Pay Approval," (2017). Managerial Finance.
Teaching:
FIN 3680 - Intro. to Finance
FIN 4535 - Financial Modeling & Valuation
FIN 4620/2 - Investment Management I and II
FIN 4850 - FinTech/InsureTech
FIN 5530 - Global Perspectives in FinTech for Graduate Students
Research Interests:
Corporate Finance, ESG, Corporate Governance, Executive Compensation, Political Influence in Finance, Entrepreneurial Finance, and FinTech
Recent Media Contributions:
Small businesses seek to avoid possible credit crunch as Federal Reserve raises rates once more
Small businesses 'holding up pretty well' despite high inflation, tight credit
US regulators avoided a banking crisis by swift action following SVB's collapse – but the cracks it exposed continue to weaken the global financial system's foundation
Cryptocurrency—has the bubble burst?
Dramatic collapse of the cryptocurrency exchange FTX contains lessons for investors but won't affect most people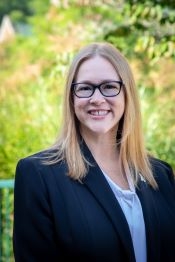 Title:

Associate Professor, David A. Thompson Distinguished Scholar of Applied Investments, Lead Professor for The Bowden Investment Group
Department:

Department of Finance, Banking and Insurance

Email address: Email me

Phone: (828) 262-6938
Office address
3065 Peacock Hall