Associate Professor
B.S., North Carolina State University
M.B.A., Appalachian State University
Educational Specialist, Appalachian State University
Ph.D. , University of Kentucky
Dr. Ivan C. Roten, CFP® is an Associate Professor in the Department of Finance, Banking and Insurance at Appalachian State University (ASU). Dr. Roten taught at ASU as a Lecturer from 1991 – 1998. He rejoined the faculty at ASU in the fall of 2001 as an Assistant Professor.
Dr. Roten is a member of the Financial Planning Association (FPA) and is currently serving as the 2009 President of the FPA of Charlotte. The FPA of Charlotte is an Association of financial planning practitioners with approximately 430 members.
Dr. Roten is the Chair of the Council on Education for the CFP Board. The Certified Financial Planner Board of Standards Inc. owns the marks CFP®, CERTIFIED FINANCIAL PLANNER™, and CFP (with flame logo)®, which it awards to individuals who successfully complete initial and ongoing certification requirements.
Dr. Roten teaches investments, corporate finance and MBA Managerial Finance. In addition, he developed a Financial Planning Program at Appalachian in 2003. He served as the Director of the Financial Planning Center (2005 – 2008) and Director of two Financial Planning Programs (2003 – 2008). During 2007 and 2008, ASU Financial Planning students competed in four National Competitions, amassing a National title, a second place finish and a third place finish.
Dr. Roten is the only faculty member in the Walker College of Business to be honored with two Excellence Awards as an Assistant Professor: Excellence in Service Award (2005) and Excellence in Teaching Award (2007).
Dr. Roten received an undergraduate degree from North Carolina State University in 1986, MBA from ASU in 1991, Educational Specialist from ASU in 1994, and a Ph.D. in Finance from the University of Kentucky in 2001. In addition, He has obtained the CFP® Certification, Licensed International Financial Analyst Certification, a North Carolina (NC) Real Estate Broker's license, a NC Real Estate Appraiser's license, a NC General Contractor's license, and the NC Life, Accident and Health Insurance License.
He is married to Dana Frye Roten, a 1991 (BSBA) and 1992 (MBA) graduate of ASU. They have two children Graham Frye Roten (born 1997) and Marshal Frye Roten (born 2000).
Teaching:
FIN 3680 - Introduction to Finance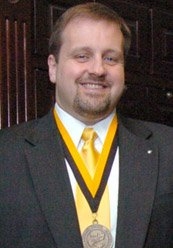 Title:

Associate Professor
Department:

Department of Finance, Banking and Insurance

Email address: Email me

Phone: (828) 262-6943

Fax: (828) 262-2925
Office address
3086 Peacock Hall