Carla Matheus '18 RMI, FIN
Ocean Marine Underwriter at Travelers Insurance (Alpharetta, Georgia)
Carla Matheus was a focused finance major when she found herself at the annual Risk Management and Insurance (RMI) Recruitment Dinner. When she discovered the opportunities offered through the RMI program - traveling, career fairs, company shadowing - and that insurance encompasses so much more than just the typical personal auto, homeowners, and health insurance, she decided to add on the RMI major and achieved both degrees in four years without extra classes.
Looking back, Matheus identifies her Intro to Insurance course with Dr. David Marlett as being a pivotal moment, and she was impacted by his investment in each student's success and learning experience. This also laid the foundation for Matheus to enroll in Marlett's International Insurance Markets class, which allowed her the opportunity to travel to London for a week during her senior year. "Traveling to London was the highlight of my educational experience", she said. "After learning all the various aspects of insurance through all the RMI classes, we got to experience where it all started (Lloyd's). Shadowing activities at multiple insurance companies demonstrated how the things I learned in class applies to real-life situations."
Matheus contributes much of her current success in her career to her education at AppState. "The AppState program is unique in the sense that it prepared us to be professionals in the business world, along with providing an excellent education.Traveling to industry events helped me understand business etiquette, feel more confident around professionals, and learn how to network. I also found an internship through the Business Connections career fair, which led to a full-time employment offer with Travelers Insurance before my last semester even started."
Now, Matheus enjoys her career as an underwriter because it allows her to dig deeply into numerous different aspects of insurance. "Underwriting requires lots of critical thinking," says Matheus, "which must be balanced with maintaining agency relationships." Matheus' work at Travelers Insurance is focused on the specialized field of Ocean Marine, allowing her to enjoy the benefits of having a smaller team, but at the same time being an integral part of a large company.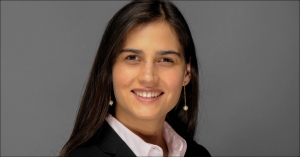 Tags: