Congratulations to members of the Appalachian team competing in the North Carolina CFA Society Research Challenge: David Franco, Nathan Hughes, Ana Melone, and Jacob Wiley. The team won in the finals of the North Carolina competition. They will go to New York in April to compete in the Americas Regional.

Appalachian teams have won in nine of the twelve years that the competition has been held in North Carolina and Appalachian is the only university in the state to have a team in the finals in all twelve years. Following is a list of universities with teams in the competition this year:

Appalachian State University*
Elon University*
North Carolina State
SKEMA Business School*
University of North Carolina - Wilmington*
*indicates teams that advanced to compete in the North Carolina finals

The CFA Institute Research Challenge is a global security analysis competition that begins at the local level. Click here for more information on the CFA Research Challenge.

A special thank you to CFA Mentor, Mr. Chris Pavese, President and Chief Investment Officer at Broyhill Asset Management.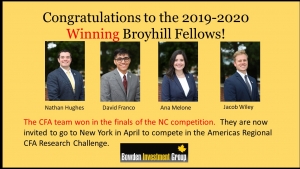 Tags: