AppState CFA Team wins Southeastern regional and advances to the Americas Regional in the CFA Institute Research Challenge, a global security analysis competition.
The students are Zane Clark, Brandy Crump, Zack Marciniak and Hailey Shoesmith. The four compose the Broyhill Fellows, a subset competition team of the Bowden Investment Group, a hands-on financial portfolio management experience for students in the Walker College of Business.
The team competed in the Southeastern U.S. Sub-Regional and was selected as a Sub-Regional Champion. As a result, the team will advance to the Americas Regional level next week. "We are incredibly proud of these students; they continue to work very hard and are excellent representatives of Appalachian State," said BIG Faculty Advisor, Dr. Brandy Hadley. "Finally, this would not be possible without the support of our CFA Industry Mentor, Mr. Chris Pavese, President and Chief Investment Officer of Broyhill Asset Management, as well as the foundation built by Dr. Delbert Goff and prior teams."
Following is a list of the university teams that competed in the Southeastern Sub-Regional competition. Our Appalachian State Broyhill Fellows and the Stetson University team have advanced to the Americas Regional Semifinals Round.
Appalachian State University, representing North Carolina
Indiana University Southeast, representing Indiana
James Madison University, representing Virginia
Mercer University, representing Georgia
Millsaps College, representing Mississippi
Stetson University, representing Florida
University of Tennessee at Chattanooga, representing Tennessee
About the Bowden Investment Group
The Elbert V. Bowden Student Managed Investment Fund was established in January 2000 with the purpose of providing students with an opportunity to obtain hands-on investment experience and to provide funds to benefit the students and faculty in the Finance, Banking and Insurance department. Learn more at big.appstate.edu.
About the Department of Finance, Banking and Insurance
The Department of Finance, Banking and Insurance develops leaders for business, government and education by offering a Bachelor of Science in business administration in two specializations: finance and banking, and risk management and insurance. Learn more at https://finance.appstate.edu.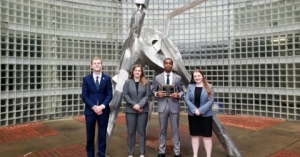 Tags: