This March, the Bowden Investment Group proudly represented Appalachian State and its generous supporters at the Quinnipiac Global Asset Management and Education (GAME) Forum and Competition in New York City, which is considered the world's largest student-run financial conference. This event provided a unique opportunity to gain direct insights from financial experts on their investment strategies, economic outlooks, hedging strategies, and more.
Notably, David Kelly, Chief Global Strategist at JPM Asset Management backed his recessionary views with his belief that the economy is out of shape for the current set of interest rates after getting used to low rates for fifteen years. Kelly went on to say that current interest rates create an environment with irresponsible risk-taking, corresponding with the Volatility we continue to see in the markets. Distinguished speakers from esteemed financial institutions such as Bloomberg, T. Rowe Price, J.P. Morgan, Rockefeller Global Office, Morgan Stanley, UBS, Barclays, Goldman Sachs, Blackrock, and Charles Schwab, among others, presented their experiences and views backed by thorough research, providing the attendees a comprehensive view of the current economy. During the conference, numerous special guest speakers presented their outlooks for the economy and markets. Notably, the Chief U.S. Economist at Bank of America, Michael Gapen, stated,"Near-term pain is going to be long-term gain." However, the majority of speakers had a more pessimistic tone in their predictions for the next term.
Our representatives Noah DeLucia, Jonathan Fogle, Jackson Norwood, and Steven Testa had the opportunity to network with industry leaders and approximately 1,300 other attending students to build lasting relationships with similarly ambitious individuals entering the finance industry. Our members were able to ask multiple questions at panels in front of live audiences, representing Appalachian State University to industry leaders. We look forward to applying the information and Insights gained from the conference to help make our final decisions for the portfolio.
We would like to thank the supporters of the Bowden Investment Group that made this experience possible!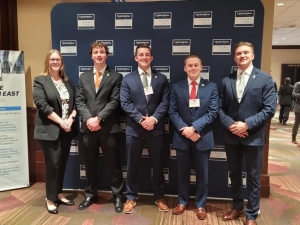 Tags: